WINTER LEAGUE
---
NOVEMBER - FEBRUARY
Washington Interscholastic Orienteering League (WIOL) and public Winter Series
Series director(s): Michelle Kastner&nbsp&nbsp
Winter League is the Pacific Northwest's premier competitive orienteering series for all ages: Elementary, Middle School, High School, and Collegiate students, and adults. We also offer non-competitive categories at every event.
Students and adults will love the chance to make sense of new surroundings and get outdoors in an immersive way. Learn to read topographic maps, use a compass, make route choices, and problem-solve when things don't go as expected. As students improve, these skills are used while running, providing a challenge for both mind and body.
Events
The challenge ascends as the season progresses! Events in the first half of the season are held at beginner-friendly venues, some of which are trails only, while events in the second half move to more forested and challenging venues. The season is capped off with a championship event and an awards ceremony to recognize top individuals and teams in both the series overall and the championship event. Your best four event scores make your season score, so don't fret if you can't make it to every event.
DATE
EVENT PAGE
ORIENTEERING MAP
DIRECTIONS
Sat, Oct 7
2023-24 Winter League North Training – Lynndale Park
Lynnwood, WA
Sun, Oct 22
2023-24 Winter League South Training – Maple Valley Farmers Market (Pending Permits)
Maple Valley, WA
Sat, Nov 4
2023-24 Winter League #1 – Lincoln Park
Seattle, WA
Sat, Nov 18
2023-24 Winter League #2 – North SeaTac Park
Seattle, WA
Sat, Dec 2
2023-24 Winter League #3 – Shoreview Park/Shoreline College (Pending Permits)
Shoreline, WA
Sat, Dec 16
2023-24 Winter League #4 – University of Washington
Seattle, WA
Sat, Jan 6
2023-24 Winter League #5 – Putney Woods
Whidbey Island, WA
Sat, Jan 20
2023-24 Winter League #6 – Summit Trail/Rock Creek
Maple Valley, WA
Sat, Feb 3
2023-24 Winter League #7 – TBD
Sat, Feb 17
2023-24 Winter League Championships – Green River College
Auburn, WA
Sun, Feb 18
2023-24 Winter League Celebration Weekend Relay – Luther Burbank Park
Mercer Island, WA
Pricing and Registration
Depending on which category you participate in, registration follows one of two processes. In all cases, registering for a season pass will save you some cash and help our volunteer-run events operate more smoothly.
Elementary, Middle School, High School, and Collegiate Students
A season pass is $66 or 33 Volunteer Points for 8 events (not including Celebration Weekend Relay).
Register before Oct. 15th at 7 pm to get the Early Bird Special of $10 (or 5 volunteer) points off!
$10 (or 5 volunteer points) for season epunch rental.
Meet to Meet costs are $10 per meet for the race and $5 per meet for the epunch rental.
Register at the Washington Interscholastic Orienteering League (WIOL) website:
Questions about school league registration? Contact the WIOL Registrar.
Adults, and non-competitive courses for all ages
Non-member pre-registered race price will be $22 or 3 volunteer points
COC Member pre-registered race price will be $17 or 3 volunteer points
E-punch rental is an additional $5 per event or 2 volunteer points.
Groups same as above plus $5 for each additional adult (16+) group member, no charge for additional children. Max group size is 2 adults and 2 children,
Register at Cascade Orienteering Club's website:
Become a club member.
Volunteering
Our events can't happen without your help. Participating in the season? Please consider helping for just a couple hours at one event and you'll earn volunteer points you can redeem for race entry and/or epunch rental. (Current prices in volunteer points is 3 volunteer points for race entry and 2 volunteer points for epunch rental.) (You can even participate and volunteer at the same event.) Most positions don't require any orienteering experience and many are appropriate for students looking for service hour opportunities. Thank you for your help!
Frequently Asked Questions
What equipment do I need? / What do I need to buy for my student?
Orienteering requires very little special equipment. Dress for the weather and your expected pace. On more advanced courses with off-trail travel, you may also want to consider the vegetation when picking your kit. You'll see people wearing trail running gear, hiking gear, casual outdoor gear, and everything in between. We rent timing chips (called an "e-punch" or "finger stick") and compasses every event, though you may want to purchase your own.
How long are events?
Every event and every course are different. During Winter League, Elementary / Beginner courses are designed to be completed in 10 to 30 minutes, while participants on advanced courses may spend 40 to 90 minutes completing the course. The 2021-22 Winter League Season will have assigned start times for ALL participants.
Is it safe for my child to be out in the woods alone?
Like any sport, Orienteering is not without risk. That said, orienteering is very safe. Your child will learn valuable independent problem solving skills, and we have procedures in place to make sure everyone returns safely. Every participant is required to carry a whistle to be used in case of emergency, and parents may shadow elementary school students on their course.
What  WIOL category should I sign up for or sign up my student for?
| | Minimum Grade Level Allowed | Maximum Grade Level Allowed | Shadow Allowed? | Competitions / Awards | Team Status | Restricted Eligibility? | Level | Average Race Distance | Average Number of Controls |
| --- | --- | --- | --- | --- | --- | --- | --- | --- | --- |
| Elementary | K | 6th | Yes | Team and Individual (4) | Co-Ed Teams | No | BEGINNER | 1.5 km | 8 |
| Middle School | -- | 8th | Yes | Team and Individual (4) | Co-ed Teams | No | ADVANCED BEGINNER | 2.0 km | 10 |
| JV Rookie | 9th | 12th | Yes | Team and Individual (4) | Co-ed Teams | Yes (1) | ADVANCED BEGINNER | 2.5 km | 10 |
| JV-Girls | -- | 12th | No | Team and Individual | Same gender teams | No | INTERMEDIATE | 3.0 km | 10 |
| JV-Boys | -- | 12th | No | Team and Individual | Same gender teams | No | INTERMEDIATE | 3.0 km | 10 |
| Varsity | -- | 12th | No | Team and Individual | Co-ed Teams | Yes (2) | ADVANCED | 4.0 km | 12 |
| Intercollegiate | College Freshman | -- | No | Individual | No Teams | Yes (3) | ADVANCED | 5.0 km | 14 |
JV Rookie: Must be in grades 9-12 and never run WIOL before or scored in the bottom 30% of MS previous year
Varsity: Must have previous WIOL Varsity Experience, finish in the top 25% on JV previous year, or approval from the WIOL registrar
Intercollegiate: Students must meet the current Orienteering USA eligibility standards. This means you must:
a.       Be a full-time college or university student. (Undergraduate or graduate as defined by the college or university)
b.       Be less than 28 years old as of December 31 of the current year
4. Must run solo (no shadow) to be eligible for points towards awards.
Public non-competitive courses: Beginner, Advanced Beginner, Intermediate, and Short Advanced. If you're unsure, ask a volunteer at registration what might be appropriate for you. Small groups may participate on these courses.
Learning to Orienteer
The quickest way to learn is to come to an event, where we always have beginner instructors available to help you getting started. For more self-serve information, check out the following:
Find a permanent course near you on the Permanent Courses page, and try it out yourself.
Visit the Newcomer's page on our website, which has in-depth answers to many questions about orienteering and Cascade OC's events.
Become familiar the orienteering map legend, and check out examples of different course difficulties from the same event:
Coaches
Trying to build a team or work with students to improve skills? Check out the Orienteering Coach's Handbook by COC's Bob Forgrave.
Scoring and Awards
At each event, individuals on competitive courses earn points based on finish rank within each competitive category:
1st place: 100 points
2nd place: 95 points
3rd place: 92 points
4th place: 90 points
5th place: 89 points
points continue to decrease by one point per place
Team Scoring
Student's individual scores contribute toward a team score.  High School JV and Varsity teams are gender based and the top 3 scores count toward the team score. For Middle School and JV Rookie, teams are co-ed so the top three scores, regardless of gender count toward the team score.  There are no teams for Elementary schools.
Season Scoring
Season scoring uses the best four scores from the seven events in the series. The championship event is a stand-alone event for scoring purposes. Ties for season scores are broken by comparing the best individual event scores of each individual or team head to head. In the case that all event scores are the same when ranked this way through all seven events, a tie is awarded.
Awards
At the championship event, we'll present awards to the top three individuals and teams for the season as well as the top three individuals and teams from that day's championship race!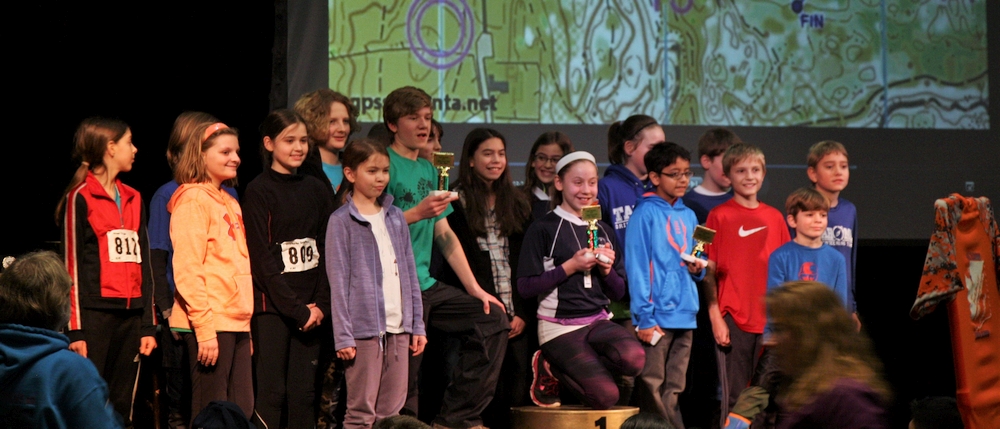 Winter League Rules Handbook
Didn't find what you're looking for? Reach out to the series director (Michelle Kastner) or check the WIOL Rules for further details regarding eligibility, scoring, detailed rules, embargoed areas and more.