Shoreview Park/Shoreline CC
---
This map is like two venues in one: the hilly and wooded Shoreview Park and the complex campus of Shoreline Community College. Be prepared to switch mental gears as you move between the two!
This venue is mapped to sprint standard (or ISSOM, the International Specification for Sprint Orienteering Maps). The sprint standard has a few key differences from traditional orienteering maps (or ISOM, the International Specification for Orienteering Maps):
Some features (usually walls) can be marked as uncrossable (illegal to cross)
Out-of-bounds is represented by olive green, which is used often for flower beds or private areas
Footpaths and paved areas appear tan
There are additional urban symbols, including canopies, which illustrate covered passageways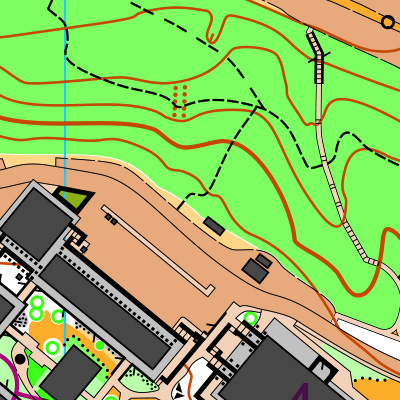 Note: Samples of the map are provided here for educational purposes only; the map shown here is not kept up-to-date. The course shown is a Beginner/Intermediate course, and actual controls do not exist in the terrain.
The purpose of providing these navigational and physical ratings below is to provide greater context for how challenging an orienteering course at this venue might be. For example, an advanced-level course at a local city park will be easier to complete than an advanced-level course in the mountains.